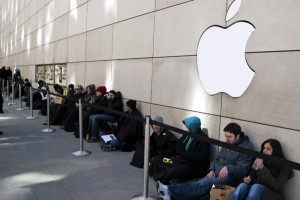 For Apple fans anticipating the new iPhone 6S, the wait is finally over.
Or is it... ?
Queuing for the Apple device du jour is a notorious tradition. And since its debut last week, lines around the world to purchase the iPhone 6S could virtually wrap... around the world.
In Sydney, Australia, one enterprising woman sent a robot to do her bidding so she wouldn't have to wait overnight, sleeping on a sidewalk in front of the Apple Store with thousands of others.
But in an age of thriving technology, does it make sense to wait in line several hours, if not overnight, for the most high-tech phone available on the planet?