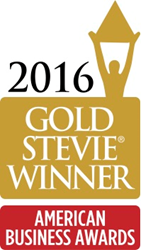 What does a queue management platform have in common with Michael Phelps? The GOLD – six gold medals to be exact!
QLess earned the Gold Stevie® Award for "Company of the Year" from both the 2016 International Business Awards and the 2016 American Business Awards. The double distinction marks our 6th win for the top honor in the "Best Computer Services" category: two consectuive years from the IBA and four consecutive years from the ABA – a testament to the excellence of our entire team and our amazing partners.
And now we are hoping to win the People's Choice award – please vote to eliminate needless waiting in line!